Habitat Homes
What Is A Habitat Home?
A Habitat home is a simple, decent place to live. Habitat homes are three to five bedroom homes, depending on family size. Homes are built in partnership with the family, our community, and Habitat. New homes come with brick fronts and one car garages. Habitat homes are sold to qualifying families on a 20 to 30-year, no interest mortgage with payments of approximately $350-$400 a month. Generally, it takes from 9-18 months from the time family is approved to the time they can move into their home.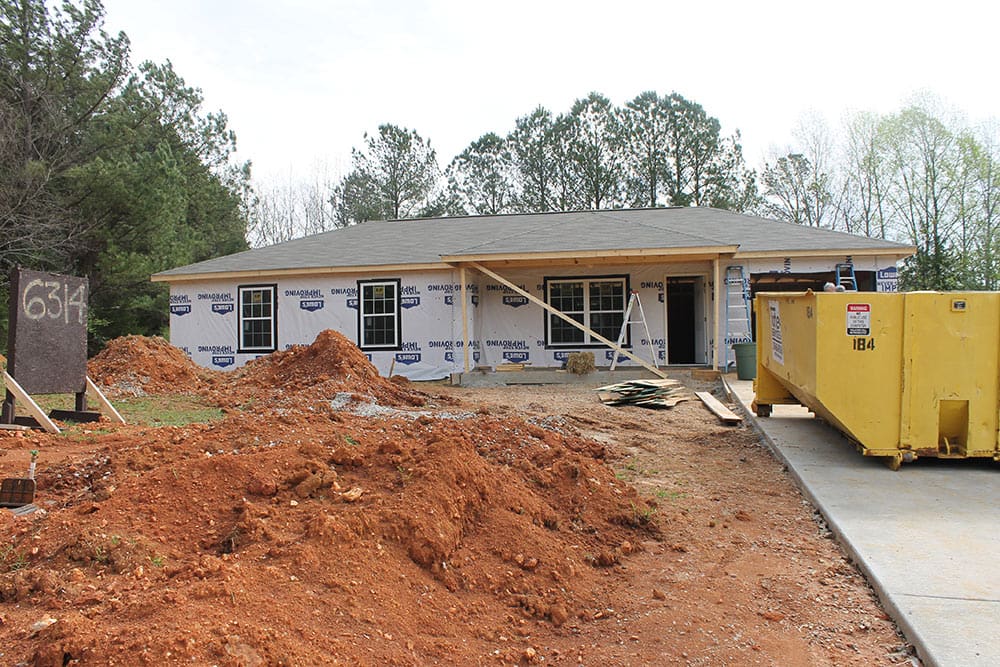 What Criteria Does Habitat Look For In A Housing Applicant
You must demonstrate a need for adequate housing. A committee member will come to your present home to determine if you have a need for housing.
Since you will be purchasing your home from Habitat, you must demonstrate an ability to pay for the home:
You must have a consistent, verifiable income which can include wages from job, SSI, Social Security, child support, public assistance or alimony
Be able to show that you have a stable payment history and would be responsibe in making mortgage payments
Be able to pay on existing debts, a mortgage, and maintain a standard of living.
You must demonstrate that you are willing to partner with Habitat by:
Agreeing to complete 300 "sweat equity" hours in the Habitat ReStore, construction sites, and with other non-profits.
Participate in homeowner classes and various workshops.
Pay closing costs before closing on your home.
How To Apply
Thank you for your inquiry about the Habitat for Humanity Program!  We hope that we can answer your questions in the information following.
At this time, we are NOT accepting new applications for housing.  We encourage you to read the information below to learn more about how you can apply when the application process opens up again.
When the open period for application to the Habitat program begins, it consists of two (2) Phases.  During Phase I Habitat conducts orientation(s) with all perspective applicant families in the community.  Habitat discusses specific program requirements, perspective applicant families complete the program application and Habitat secures basic information and documents needed to complete the application,  e.g. (INCOME [food stamps, SSI, child support, alimony, Saving and or Checking account statements (2 months)], IDENTITY  [Social Security Card, License, Non-Driver ID], and the application FEE(s).  Habitat completes a review of the application and the information from consumer and investigative reports to verify if the applicant family meets the criteria to move to Phase II of the program. 
Phase II is a collection and continuing review of the applicant family's ability to repay the mortgage.  If approved, applicant families meet with our Family Service Committee in their current home to establish the Need for adequate shelter.  Upon recommendation from our Family Service Committee and approval by our Board of Director's the applicant family is welcomed into the Habitat program!
The final criteria is partnership. Once selected, the partner family is required to complete a TOTAL of 300- 350 "Sweat Equity Hours (25-30 hours per month), pay $100 per month towards closing cost on the home and maintain monthly communication with the Family Services Staff.  Sweat Equity hours are broken down between RESTORE support of Habitat programs or other non-profit organizations in the community, mandatory education classes and construction on your home and/or the homes of other partner families.  Applicant families can expect to participate in the program for approximately 18 – 24 months.   
At this time, we are NOT accepting applications to the program. Please follow Habitat for Humanity of Madison County on FACEBOOK (https://www.facebook.com/habitatofmadisoncounty)  for upcoming announcements.