Congratulations to the Price and Ford Families!
This week Habitat for Humanity of Madison County closed on two more homes for the Price and Ford families.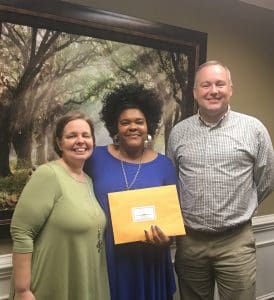 Donna Price closed on her home built last summer.  Donna has worked with adults with disabilities for 20 years. Caring for her family and her clients brings her a great deal of joy.  Her hobbies include gardening, and giving back to her community.  She is a huge fan of the Crimson Tide and loves nothing more than a good game enjoyed with good friends. She is well known for keeping hot sauce in her purse, because you never know when you might need it.  Donna comes from a large family of six brothers and two sisters.  Donna is a breast cancer survivor and has been cancer free since April 21, 2016.  She is excited to have her own home, and can't wait to have family and friends over to cheer on the Crimson Tide!  Donna's house was sponsored by the City of Huntsville's Community Development Office, Poarch Band of Creek Indians, Regions Bank and our amazing community!
Brittany Ford, experienced a tragedy in 2014, with the unexpected death of her mother.  Brittany, a single mom herself to a 9 year old daughter, was faced with the daunting task of taking in and raising her three brothers and two sisters.  The Ford family knows no limitations.  Brittany feels blessed to know that her family can all continue to grow up together in a safe home, big enough for all the love they have for each other.   Because of our communities support Brittany and her family will remain together!  Brittany's home was sponsored by the Alpha Foundation, CFDRC, Huntsville Board of Realtors, Wells Fargo, Church of the Nativity, Aldersgate United Methodist Church, Faith Presbyterian Church, First Christian Church, St. John's AME Church, St. Matthews Episcopal Church, & Provision Center for Proton Therapy.
God is good…..Always!
Habitat for Humanity of Madison County is an ecumenical, grassroots Christian housing ministry that seeks to eliminate poverty housing from our community, and make a decent shelter a matter of conscience and action.  Since 1987, nearly 280 families in Huntsville and Madison County have been served through the new construction, rehab and repair program.  Please join our ministry with a donation to Habitat so we can help continue to provide opportunities for families in need in Madison County.  Click here to donate.